When does the NFL Season Start 2022-23 : 2022 NFL Schedule: Release date, details and more
Beginning this season, fans will have unprecedented access to more games each week, which will affect the scheduling process.
Monday Night Football games subject to flexible scheduling beginning in Week 14 during the 2023 season.
One additional Monday Night Football doubleheaders (with additional Monday Night doubleheaders starting in 2023).
Saturday doubleheaders in the final week of the season featuring matchups with playoff implications.
Each team has one bye week between Weeks 6 and 14. Determining where that bye week falls for each team presents additional challenges for the schedule makers.
For example, the league tries to limit the number of times a team that played the week before has to face a team coming off its bye.
The schedule makers also consider where a team's bye week fell in past seasons. A team with an early bye week one year will receive consideration for a later bye week the next season.
Even after all the factors have been weighed and the schedule is produced, the league occasionally has to make adjustments on short notice.
THE ANATOMY OF THE NFL SCHEDULE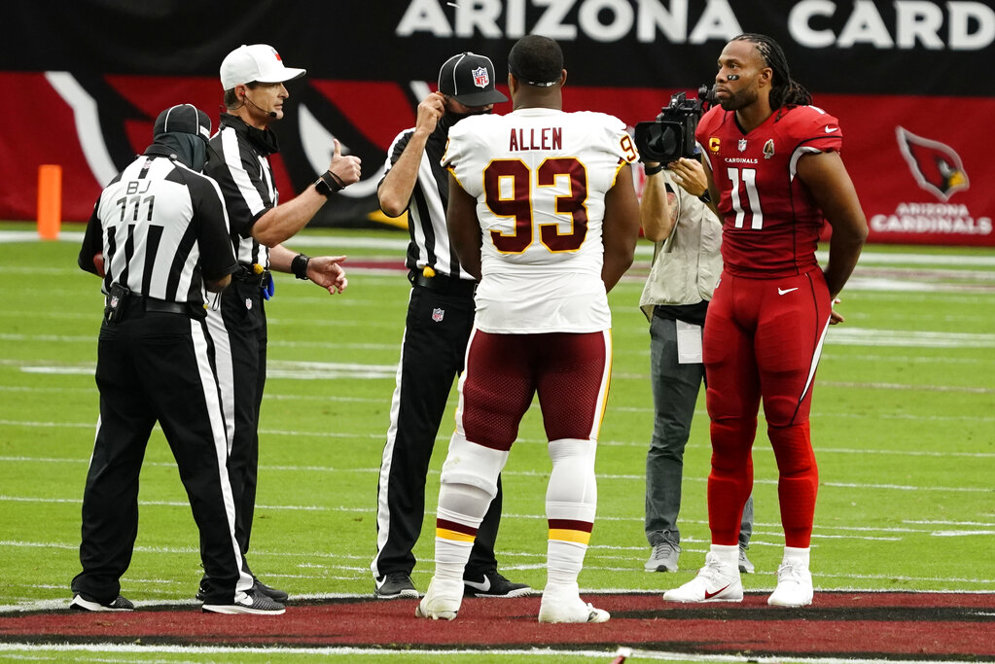 The league's 32 teams are split into two conferences — the American Football Conference (AFC) and the National Football Conference (NFC). The 16 teams in each conference are split into the East, North, South and West divisions; every division has four teams.
Every team will play 17 regular-season games with one bye week. Teams will alternate seasons where they host nine regular-season games and one preseason game, or eight regular-season games and two preseason games. The NFC will have nine regular season home games in the 2022 season.
Here's a breakdown of how each team's opponents are set:
Six games against divisional opponents — two games per team, one at home and one on the road.
Four games against teams from a division within its conference — two games at home and two on the road.
Four games against teams from a division in the other conference— two games at home and two on the road.
Two games against teams from the two remaining divisions in its own conference — one game at home and one on the road. Matchups are based on division ranking from the previous season.
The new 17th game is an additional game against a non-conference opponent from a division that the team is not scheduled to play. Matchups are based on division ranking from the previous season.
GAME TIMES AND BROADCAST PARTNERS
Famous NFL games are typically aired on primetime throughout the week, such as on Thursday, Sunday, or Monday evenings, or during the late game on Sunday afternoons. The champion of the previous year's Super Bowl game usually hosts the season opener on the first Thursday of the season.
Saturday games will also be played during Weeks 15 and 18 of the regular season. Three of the five scheduled games for Week 15 will be played on Saturday, with the other two games split between Sunday and Monday. Time and day of play for the scheduled Week 15 games will be confirmed at a later date.
Two games will be played on Saturday and the rest will be played on Sunday during Week 18. After Week 17 is complete, the dates, times, and networks for Week 18 games will be set and publicised.
Since Christmas is on a Sunday, the traditional Sunday afternoon slate of Week 16 games will be played on Saturday. The NFL Network will air a primetime game on Christmas Eve, and the network will air three games on Christmas Day.
On Sundays, the majority of NFL games begin at either 1:00 or 4:05 p.m. Eastern Time (ET), depending on whether or not they are part of a network doubleheader.
Sunday afternoon games are carried on Fox (NFC) and CBS (AFC), with CBS typically airing games involving AFC away teams and Fox showing games involving NFC road teams.