Panda Activation Code: Where can you find your Panda Activation Code?
The activation code consists of two sets of characters and numbers separated by a hyphen. This code is essential in order to activate your product.

It is important to activate your product so that you can benefit from advantages such as daily automatic updates for the duration of your product license, Technical Support, SOS Virus, etc.
Where can you find your activation code?
Whether you bought your product online or in CD-ROM version, obtaining the Activation Code is easy.
Online Purchase:
If you bought the product from the Panda Security Online Store, you will find the Activation Code in the welcome emails forwarded by Panda Security.
Should you not find it, please go to your Panda Account. To do so, follow the instructions below:
Access your Panda Account by clicking the link below:
Enter your email address and password and click Login.
Once in your Panda Account, from My Products, you will see the Activation Code of your product.
CD-ROM:

If you purchased your product in CD-ROM format, you will find the Activation Code printed on the CD envelope.
How can I view or modify my Panda Account login email, password and personal details?
You can update most of your account details directly from your Panda Account page. These are the account information items that you can view or modify:
Your login details (login email and password).
Your profile information (name, date of birth, address, etc.).
View recent login activity.
Your preferred language.
Accessing your Panda Account details
Access https://my.pandasecurity.com
Enter your login email address and password to login.
If you have forgotten your password, use the Forgot your password link and follow the wizard through. For further information, refer to How can I change my Panda Account password?

Click your name on the top right-hand side, next to the Log out button.

Once you access, you will see the option to change your Panda Account password and change the login email address. Additionally, you can change the details of your profile, language and check the activity history from the left-hand side panel.
Changing your login email or password
From the account login area select the Login tab.
You can now use the Change email address and Change password links by clicking on them.


Changing your Profile information
From the Account details area click the Profile tab.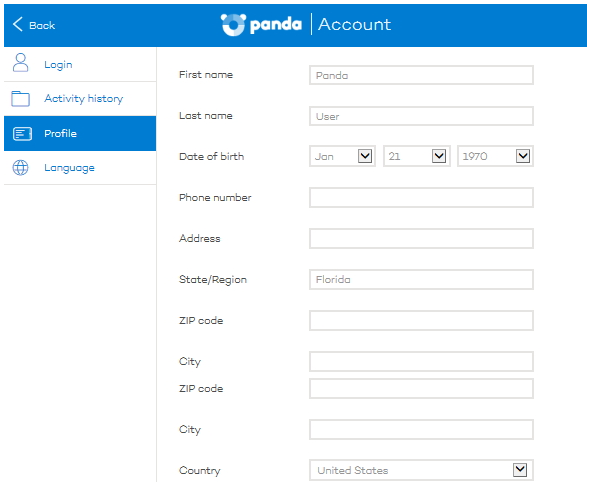 You can now edit all your profile information. Click Back to save the data and return to the main screen when you are done.
Viewing recent login activity
From the Account details area click on the Activity History tab.

You can now click on any individual entry to see additional information, including the IP address the connection was made from, browser, and approximate location. Please note that the location is based on IP geolocation and its precision will depend on what the company providing the IP reported.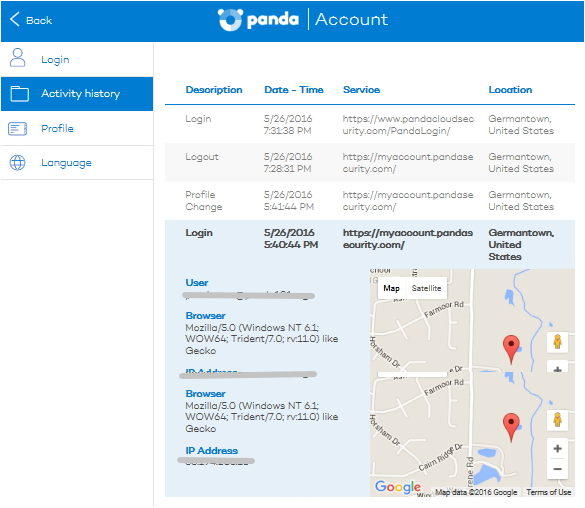 Changing your account language
From the account details area click the Language tab.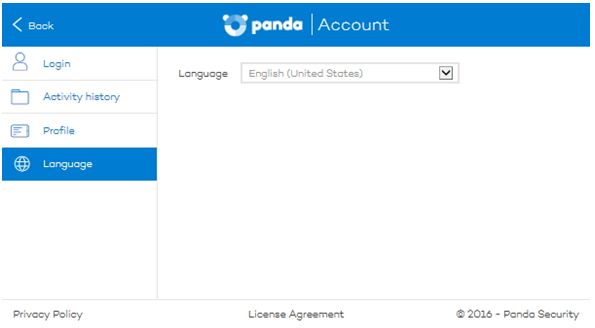 Select your preferred language
To save your settings and return to the main My Account page please click Back.