Madden 23 Release Date : Madden 23 Official Reveal Trailer
Gridiron Notes returns for Madden NFL 23! We'll be sharing a ton of great information about the game this season including feature deep dives, Title Updates, and even more all season long.
Today, we're going to share what's new in Madden NFL 23 along with Madden All-Access information. You'll get to see our official reveal trailer for Madden NFL 23. Also, you can find pre-order information and all of the new Gridiron Notes that were released today!
There's so much to talk about with Madden NFL 23, so let's start with the Madden NFL 23 Official Reveal Trailer:
FieldSENSE
The all-new FieldSENSE™ Gameplay System provides the foundation for consistent, ultra-realistic gameplay, and equips players with more control at all positions in every mode. Only available on Playstation®5 and Xbox Series X|S versions, FieldSENSE comes to life with:
Hit Everything: Redefining defensive pursuit, new Hit Everything mechanics let you be more disruptive on defense. New animation branching technology in Madden NFL 23 enables next-gen Hit-Stick physics so you can perform mid-air knockouts, hit the pile to assist in tackles already in progress, blow up blocks, and force turnovers with stand up tackles.
Skill-Based Passing: Lead your receivers open, drop back-shoulder throws into tight windows, and place every pass where only your receiver can catch it with surgical accuracy thanks to this all-new way to pass. Skill-based passing introduces a new accuracy reticle and passing meter.
360° Cuts: Whether you're a running back, wide receiver after the catch, or returning a kick, new 360° Cuts give you the freedom and fluidity as the ball-carrier to hit the gaps you want to, plant-and-go, and elude defenders using Left Trigger/L2 and a well-timed flick of the stick.
WR vs DB Battles: A suite of new wide receiver release moves and defensive back counter press mechanics make for some fancy footwork and crucial 1-v-1 battles off the line.
Franchise
Call the shots from the front office as you lead your Madden NFL 23 Franchise to the top. The Drama of NFL Free Agency leads the way with new athlete motivations like team location and salary demands factoring into contract negotiations. New player tags improve offseason activity logic and impact player progression. Updated Trade Logic AI represents the value of star players more accurately for fair and more realistic offers. Continue to plan and strategize like an NFL head coach with refined scouting, staff management, and weekly strategy features.
Face of the Franchise: The League
The League drops you into your fifth NFL season at a skill position of your choice (QB, WR, RB, CB, MLB) and you're seeking a fresh start with a new team. Negotiate a one-year "prove-it" contract with one of 32 NFL teams and show out with great on-field performance to earn rewards and level up. New position-specific mechanics brought to life by FieldSENSE and player-focused cameras bring you closer to the action and add to gameplay depth by allowing you to dominate every snap, from anywhere on the field. The addition of New Drive Goals and Drive Summaries allow you to tweak your experience throughout the game and get feedback and rewards based on how well you play. Get performance boosts from weekly activities and training between games while Madden Ratings Adjustor Chad Johnson guides your career development by providing ratings updates as you strive for the highest level of prestige on your Road to 99. Will your NFL career rank among the all-time greats? It's up to you.
Madden Ultimate Team
Develop your dream fantasy roster of current NFL superstars, Hall of Fame legends, and more. Always have something to play for with the first-ever Field Pass challenge and reward tracker in Madden Ultimate Team™. Play to earn MUT Champions entry tokens and choose to compete at your convenience. Simplified Set building lets you navigate your content binder more effectively so you can focus on improving your Ultimate Team roster all season.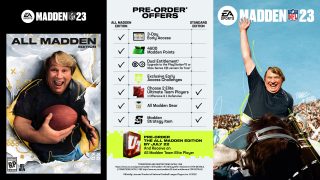 The Yard
Become the world's greatest in this tricked-out, backyard-inspired 6v6 gameplay set in fantastical locations around the globe. Do it in style with the hottest gear in the game. Fully integrated into Face of the Franchise, access more opportunities for Avatar progression by playing in The Yard.
Superstar KO
Squad up and feel like an NFL superstar in Madden NFL 23's fast co-op eliminator mode where Superstar X-Factor abilities are always on. Play short games in unique stadiums with dynamic rules and icons of football culture.
MADDEN ALL-ACCESS
Madden All-Access returns! Starting in July, Madden All-Access kicks off to bring our players more in-depth information about their favorite modes.
Make sure to stay tuned to Madden NFL and your favorite creator channels for future updates.