https //pay.imaginepay.com Login : Medical Payments Anywhere | ImaginePay
Designed with time-of-service in mind, ImaginePay™ makes payment transactions easy and convenient for both provider and patient. Patients pay their medical bills in 5 simple steps: Providing basic information to retrieve a provider balance, selecting the amount they wish to pay, how they would like to pay, entering their billing address, and reviewing their selections to confirm payments details. That's it!
ImaginePay™ is a HIPAA and PCI-certified compliant platform; meaning that your patients' personal and payment method information are kept securely on file.
ImaginePay gives you the flexibility to make payments to your providers from anywhere you chose. Paying your bills just got simple!
Making a payment is simple. All you need is your provider ID from your statement, your personal information and a payment method.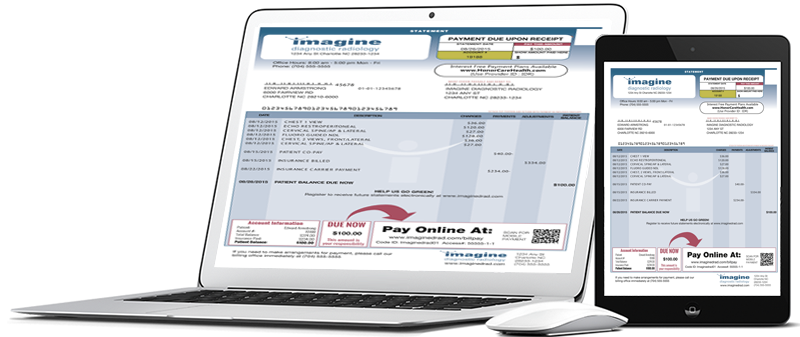 Pay in 5 Simple Steps
1. PROVIDER BALANCE
First we retrieve your balance using some basic information found on your billing statement. By entering the account number, provider, and patient date of birth we are able to locate your account balance.
2. PAYMENT AMOUNT
Now that we have located your balance, you are able to select the amount you wish to pay. Choose to either pay the minimum expected payment or pay the total balance
3. PAYMENT METHOD
Select your preferred payment method. For your convenience we accept all major credit cards and ACH debits
4. BILLING ADDRESS
Once you have selected an amount to pay and how you would like to pay, enter the billing address associated with the payment to verify the card holder information
5. CONFIRM PAYMENT
Review your selections and confirm your payment details. It's as simple as that! We're ready to serve you with our hassle free process.
Accept Mobile and Desktop Payments
Save your patient payment information in a secure, PCI-certified system. Split transactions between multiple payment methods including ACH, cash, check or credit/debit.
Features of ImaginePay™
Central Payment Management
Manage all payment accounts, balances and transaction histories from one central dashboard
Branded Portal
Add a logo to your personalized payment webpage. Customize your domain
Payment Plan Options
Allow patients to pay all at once or over time. Schedule payments for 3, 6 or 12 months
Payment Security
HIPAA and PCI-certified platform. Virtual wallet protects a patient's payment information
User-Friendly Dashboard
Costs are clearly communicated. Transaction history are easy to track. Easily reverse a payment
A/R Reconciliation
Pull payments received by date, provider or payment method to manually update your billing system