https //clearinghouse.fmcsa.dot.gov/register Login : How do I log into FMCSA clearinghouse?
The Federal Motor Carrier Administration (FMCSA) established the Commercial Driver's License (CDL) Drug and Alcohol Clearinghouse (Clearinghouse). This new database contains information pertaining to violations of the U.S. Department of Transportation (DOT) controlled substances (drug) and alcohol testing program for holders of CDLs.
The Clearinghouse rule requires FMCSA-regulated employers, medical review officers (MROs), substance abuse professionals (SAPs), consortia/third party administrators (C/TPAs), and other service agents to report to the Clearinghouse information related to violations of the drug and alcohol regulations in 49 Code of Federal Regulations, Parts 40 and 382 by current and prospective employees.
How do I log into FMCSA clearinghouse?
The FMCSA Drug & Alcohol Clearinghouse is using Login.gov to allow you to sign in to your account safely and securely. Are you FMCSA or State Driver Licensing Agency personnel? FMCSA enforcement and SDLA staff do not need to create a login.gov account to access the Clearinghouse.
You must complete the registration process before you can respond to employer consent requests or access your driver record in the FMCSA Commercial Driver's License Drug and Alcohol Clearinghouse. The instructions below are for a driver who holds either a commercial driver's license (CDL) or commercial learner's permit (CLP)
Create a Login.gov Account Accessing the Clearinghouse requires the creation of an account with login.gov, a shared service that offers secure online access to participating government systems, including the Clearinghouse. If you do not have a login.gov account, or would like to create a new one, you will need to follow the steps below
1. Visit https://clearinghouse.fmcsa.dot.gov and click Register
2. On the login.gov sign in screen, click Create an account.
3. Enter your email address and click Submit. This is the email address the Clearinghouse will use to send you notifications about your Clearinghouse account. This email address will also be used to identify you in the Clearinghouse, and cannot be modified.
4. Check your email and open the email from no-reply@login.gov, with the subject line Confirm your email. Click Confirm email address, or copy and paste the link into a web browser.
5. Create a password. This password must be at least 12 characters long. If the password you enter is not strong enough, you will not be able to continue. Enter a strong password and click Continue.
6. Select an option to secure your account and click Continue. Login.gov requires the completion of a user verification process to ensure the proper person is using those credentials. You will need to provide a way for login.gov to send you a one-time security code. Follow the instructions for the method you select.
7. Enter your security code and click Submit. This code will be provided via the method you selected. The screenshot below illustrates the SMS phone method.
8. You have created your login.gov account. Click Agree and continue to return to the Clearinghouse website and complete your Clearinghouse registration.
9. Select your role (Driver), and click Register as a Driver. This includes any individual who is a student driver that is also an employee of a motor carrier. If you are a student driver in a training program that is not affiliated with or operated by a motor carrier, you must select the Student Driver role. View the Student Driver Registration Job Aid for step-by-step instructions. View the blue box below for information about when to select the Register as an Employer and a Driver option.
10. Enter your contact information. All fields are required unless otherwise noted. Your email address will be pre-filled with your login.gov username and cannot be modified.
11. Choose your preferred contact method and click Next.
12. Enter your current commercial driver's license (CDL) or commercial learner's permit (CLP) information. Click Verify. The Clearinghouse will verify this information against information in the Commercial Driver's License Information System (CDLIS).
13. Once your CDL information is verified, you will not be able to edit it. Click Next.
14. Review the Clearinghouse Terms and Conditions. Check the box to affirm that the information you provided throughout the registration process is true and that you agree to the terms and conditions and click I Agree.
15. Your Clearinghouse registration is complete.
You will be directed to your Dashboard, a logged-in home page for your Clearinghouse activity. This is where you will come to respond to employer consent requests, review your Clearinghouse record, and make changes to your Clearinghouse account.
The Clearinghouse final rule requires the following:
Employers must query the Clearinghouse for current and prospective employees' drug and alcohol violations before permitting those employees to operate a commercial motor vehicle (CMV) on public roads.
Employers must annually query the Clearinghouse for each driver they currently employ.
The Clearinghouse provides FMCSA and employers the necessary tools to identify drivers who are prohibited from operating a CMV based on DOT drug and alcohol program violations and ensure that such drivers receive the required evaluation and treatment before operating a CMV on public roads. Specifically, information maintained in the Clearinghouse enables employers to identify drivers who commit a drug or alcohol program violation while working for one employer, but who fail to subsequently inform another employer (as required by current regulations). Records of drug and alcohol program violations will remain in the Clearinghouse for five years, or until the driver has completed the return-to-duty process, whichever is later.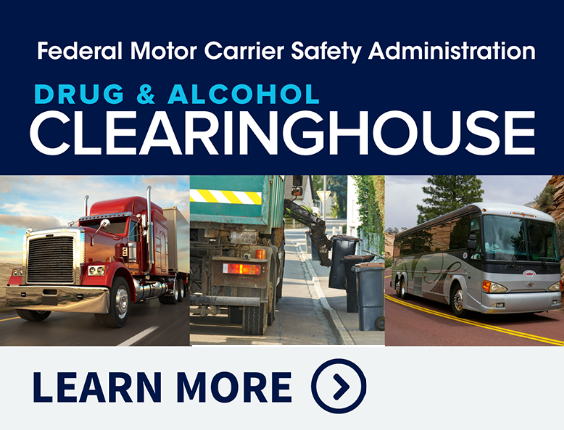 Who is Tested?
Generally, all CDL drivers who operate commercial motor vehicles subject to the CDL requirements on public roads in the U.S. are performing safety-sensitive functions and are subject to DOT drug and alcohol testing. This includes all full-time, part-time, intermittent, backup and international drivers.
Which substances are tested?
DOT drug tests require laboratory testing (49 CFR Part 40 Subpart F) for the following five classes of drugs:
Marijuana
Cocaine
Opiates – opium and codeine derivatives
Amphetamines and methamphetamines
Phencyclidine – PCP
Drug cutoff concentrations can be found on the Substance Abuse and Mental Health Services Administration Web site.
DOT alcohol tests identify alcohol concentration of 0.02 and greater.
NOTE REGARDING NON-DOT TESTING:
DOT does not prohibit motor carrier employers from instituting a "company authority" testing program that is in addition to, and distinct from, the required DOT testing program. Under such non-DOT programs, employers could test for other drugs. DOT also does not prohibit employers from using tests of non-urine specimens under a non-DOT program. DOT regulations at §382.601 provide that employer materials supplied to drivers may include information on additional employer policies with respect to the use of alcohol or controlled substances, including any consequences for a driver found to have a specified alcohol or controlled substances level, that are based on the employer's authority independent of this part. Any such additional policies or consequences must be clearly and obviously described as being based on the employer's independent authority.