How Do I Add Apps to My Vizio Smart TV That Are Not Listed
To access applications on your SmartCast TV, press the input button and choose the 'SmartCast' input. Or press the V key or Home key near the center of your remote. Currently all available applications are displayed in the app row of SmartCast Home. No app downloading is required.
If you do not see the app you're looking for, you may still be able to watch that content using the TV's ChromeCast or Airplay features. If the app you're looking for doesn't appear in your TVs app list then it currently isn't available on the SmartCast platform, and there is no way to download it to your TV's home screen. While the app you're looking for may not currently be available, VIZIO does regularly release updates to the TV that add new features and applications. These updates will automatically download to your TV, once the app becomes available to VIZIO and if your TV is connected to the internet.  The great news is that there is No Download Required for you.  It will happen automatically.
ChromeCast:
Your Television has a  built-in Google ChromeCast feature. Chromecast gives you the ability to cast thousands of your favorite applications to your TV from your computer, smartphone, or tablet.
AirPlay 2:
SmartCast Televisions also have AirPlay 2 capabilities and many applications allow you to AirPlay content from your iOS device to your VIZIO SmartCast TV.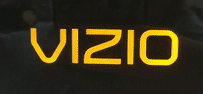 Applications not working on my TV
The following steps are intended to help fix a variety of issues with applications, including an app not loading, not playing content, or acting irregularly.
1. Check to make sure your television is connected to the network and getting a download speed.
Press the menu button on your VIZIO remote, and choose 'Network'. Then choose the option labeled 'Network Test' or 'Test Connection'.

If the TV doesn't have a download speed, or tell you that it isn't connected Click Here for help getting your TV connected to the internet.
​​2. Are you getting an error code?
Some issues with applications will generate an error code. You may be able to go to search for the error code on the applications website to find specific instructions on how to fix the application.
​3. Power Cycle the Television. 
Unplug the power cord from the back of the TV or the outlet, whichever is more convenient.

Hold the power button on the side of the TV down for 3-5 seconds.

Reconnect the power cord and turn on the TV.
Some TVs can also be power cycled from the menu. To do this, press the menu button on your TV remote and choose System > Reset & Admin > Soft Power Cycle. After choosing the soft power cycle, your unit will power off and restart.
​4. Perform a Factory Reset on your television.
Press the menu button on your VIZIO remote and choose System > Reset & Admin > Reset to Factory Settings. On some models System may be labeled as 'Help'.