England vs West Indies Highlights, T20 World Cup 2021: England beat West Indies by 6 wickets
The West Indies, who are two-time world champions but are currently in a slump, will look to pick up their game when they face England in the first Super 12 match of the ICC men's T20 World Cup.
Stats : ENG won by 6 wickets
Player of the Match: 

Moeen Ali (ENG) · 3 (4) & 2/17 (4.0)
A repeat of the 2016 T20 World Cup final was devoid of suspense as West Indies bowled out England for 55 on a difficult pitch, a target they had to work hard to surpass while losing four wickets and needing 8.2 overs to do so. Both England spinners Moeen Ali and Adil Rashid combined for 6.2 overs for 19 runs and six wickets in their respective teams' respective performances.
Despite the fact that they were chasing, West Indies lost nine of their 10 wickets trying to hit fours or sixes, faced 59 dot balls, and made no attempt to rebuild after they lost early wickets. This will cause West Indies to rethink their strategy. This strategy works well on flat pitches, but will the West Indies change their approach if the pitch is slanted?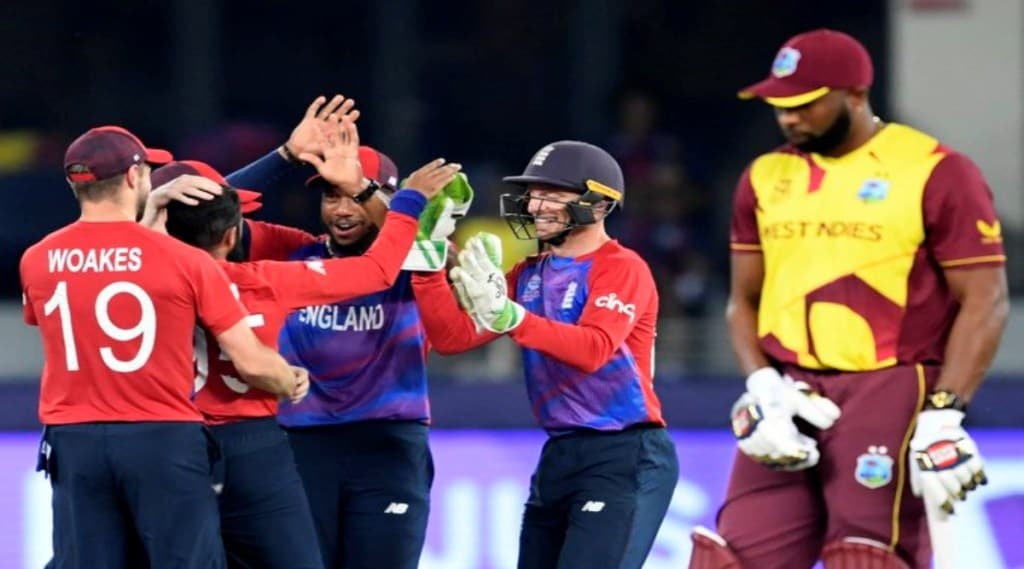 While it's possible they set their sights too high and fell short, we'll learn more about the West Indies if they are once again bowled out early in the tournament while batting first on a difficult pitch.
England Innings
BATSMEN
R
B
4s
6s
SR
Jason Roy
11
10
0
1
110
c Chris Gayle b Ravi Rampaul
Jos Buttler
24
22
3
0
109.09
not out
Jonny Bairstow
9
6
2
0
150
c Akeal Hosein b Akeal Hosein
Moeen Ali
3
4
0
0
75
run out Evin Lewis
Liam Livingstone
1
2
0
0
50
c Akeal Hosein b Akeal Hosein
Eoin Morgan
7
7
1
0
100
not out
| | |
| --- | --- |
| EXTRAS | 1 (nb 1) |
| TOTAL | 56/4 (8.2) |
YET TO BAT
Dawid Malan · Chris Woakes · Chris Jordan · Adil Rashid · Tymal Mills
| | |
| --- | --- |
| FALL OF WICKETS | SCORE |
| Jason Roy | 21/1 (3.1) |
| Jonny Bairstow | 30/2 (4.1) |
| Moeen Ali | 36/3 (5.2) |
| Liam Livingstone | 39/4 (6.1) |
| BOWLERS | O | M | R | W | ECO |
| --- | --- | --- | --- | --- | --- |
| Kieron Pollard | 0.2 | 0 | 6 | 0 | |
| Akeal Hosein | 4.0 | 0 | 24 | 2 | 6 |
| Obed McCoy | 2.0 | 0 | 12 | 0 | 6 |
| Ravi Rampaul | 2.0 | 0 | 14 | 1 | 7 |
West Indies Innings
BATSMEN

R

B

4s

6s

SR

Lendl Simmons
3
7
0
0
42.86
c Liam Livingstone b Moeen Ali
Evin Lewis
6
5
0
1
120
c Moeen Ali b Chris Woakes
Chris Gayle
13
13
3
0
100
c Dawid Malan b Tymal Mills
Shimron Hetmyer
9
9
2
0
100
c Eoin Morgan b Moeen Ali
Dwayne Bravo
5
5
1
0
100
c Jonny Bairstow b Chris Jordan
Nicholas Pooran
1
9
0
0
11.11
c Jos Buttler b Tymal Mills
Kieron Pollard
6
14
0
0
42.86
c Jonny Bairstow b Adil Rashid
Andre Russell
0
2
0
0
0.0
b Adil Rashid
Akeal Hosein
6
13
0
0
46.15
Batting
Obed McCoy
0
1
0
0
0.0
c Jason Roy b Adil Rashid
Ravi Rampaul
3
8
0
0
37.5
b Adil Rashid
| | |
| --- | --- |
| EXTRAS | 3 (wd 3) |
| TOTAL | 55/10 (14.2) |
| | |
| --- | --- |
| FALL OF WICKETS | SCORE |
| Evin Lewis | 8/1 (1.3) |
| Lendl Simmons | 9/2 (2.2) |
| Shimron Hetmyer | 27/3 (4.4) |
| Chris Gayle | 31/4 (5.6) |
| Dwayne Bravo | 37/5 (7.2) |
| Nicholas Pooran | 42/6 (8.5) |
| Andre Russell | 44/7 (10.1) |
| Kieron Pollard | 49/8 (12.1) |
| Obed McCoy | 49/9 (12.2) |
| Ravi Rampaul | 55/10 (14.2) |
| BOWLERS | O | M | R | W | ECO |
| --- | --- | --- | --- | --- | --- |
| Moeen Ali | 4.0 | 1 | 17 | 2 | 4.25 |
| Chris Woakes | 2.0 | 0 | 12 | 1 | 6 |
| Tymal Mills | 4.0 | 0 | 17 | 2 | 4.25 |
| Chris Jordan | 2.0 | 0 | 7 | 1 | 3.5 |
| Adil Rashid | 2.2 | 0 | 2 | 4 | 1 |