Direct Express Activate Card Login : How do I activate my Direct Express card?
The Direct Express® card is a prepaid debit card offered to federal benefit recipients who receive their benefits electronically. The debit card offers the convenience and security of using electronic transactions to spend and access your money rather than using cash for purchases. You do not need to have a bank account to sign up for the card. There is no credit check or minimum balance requirement.
How does the Direct Express card work?
When you sign up to receive your federal benefits on the Direct Express card, you will receive your payment every month without having to worry about cashing your check or having it lost or stolen. Instead of receiving a check, your money will be automatically deposited to your Direct Express card account on payment day.
You can use your card to make purchases at stores that accept Debit MasterCard, withdraw cash from Automated Teller Machines (ATMs), and get cash back when you make purchases. You can also use your debit card online to make payments and to also buy money orders at the U.S. Post Office.
How do I activate my Direct Express card?
When you receive your Direct Express card in the mail, call the Direct Express card Customer Service Department number listed on the back of your card to activate your card.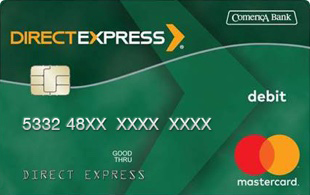 What type of federal payments can I have on the Direct Express card account?
Federal Agency
Federal Agency
U.S. Coast Guard

Defense Finance and Accounting

DFAS Annuitant Pay.
DFAS Retired Military Pay.
DFAS Former Spouse Pay.

Black Lung
Federal Employee Workers Comp
Long Shore and Harbor Workers Comp
Energy

Civil Service Retirement/Annuity
Civil Service Survivor/Annuity

Railroad Retirement Board

Railroad Retirement Annuity
Railroad Retirement Unemployment/Sickness

Social Security Administration

Social Security Retirement, Survivors, and Disability Insurance
Supplemental Security Income

U.S. Department of the Treasury

DC Pension

Veterans Compensation and Pension
Veterans Education MGIB
Veterans Education/Selected Reserve
Veterans Vocational Rehab and Employee
Chapter 33 – VA EDU Post 911 – Post 911 GI Bill
Chapter 35 – VA DEP EDU ASST – Dependents Education Assistance Program
Chapter 1607 – VA EDUCTN REAP – Reserve Education Assistance
Veterans Health Administration
Compensated Work Therapy
Veterans Medical Research
The Direct Express® card offers representative payees the option of receiving benefits on behalf of more than one person on one Direct Express® card or signing up for a separate Direct Express® card for each beneficiary. As a representative payee, you are responsible for complying with Social Security Administration's rules related to holding funds for more than one beneficiary. Please contact the Social Security Administration to learn the rules related to holding funds for more than one beneficiary or call toll free 1 (800)772-1213. (TTY users can call 1 (800) 325-0778.)
What are the benefits of the Direct Express card?
The Direct Express card gives you the advantages of direct deposit even if you don't have a bank account.
It's Safe: No need to carry large amounts of cash and no risk of lost or stolen checks.
It's Easy: Your money is automatically deposited to your card account on payment day each month. You won't have to wait for the mail to arrive.
It's Convenient: You can make purchases anywhere Debit MasterCard® is accepted and get cash back at retail locations, banks and credit unions, and ATMs throughout the world.