cpwdsewa.gov.in Online Complaints :
The CPWD is in charge of developing and maintaining the Government of India's landed assets, which include residential and non-residential structures. Even monumental, other significant structures and infrastructure projects are included.
Toll-free number for CPWDSewa Call Center: 18002664499 or 1800114499.
Submission of a Complaint
After logging into the CPWDSEWA website, the kind of complaint (i.e. residential or non-residential) can be selected from the drop down option on the left panel of the screen.
To move to the next page where the screen appears, click the "Continue" button. Against the complaint filed, the resident may choose their desired day of attendance, as well as their preferred hour of attendance. The following confirmation screen comes after clicking the Submit button, displaying the UNIQUE Complaint Number generated by the system.
The current state of the complaint
There are two ways to check the status of your complaint online:
** By complaint number; and ** By entering a specific building/quarter and then selecting the appropriate complaint number.
The Resident Module is used to verify the status of a sample complaint number 1107700.
When you click the submit button, you'll get the STATUS screen below.
Residents can obtain the complaint history for their specific quarter in a given time period by selecting one of the alternatives under this category.
After selecting the appropriate house data and establishing the complaint timeframe, click the Submit button.
After the complaint has been addressed by the appropriate CPWD Service Center, the resident can provide comments. Residents may be allowed to enter either the complaint number or proceed to locate the specific complaint made by going step by step and providing comments during this procedure. Feedback can be provided in three different ways, as shown below:
1. Content with the work completed; 2. Dissatisfied with the work completed; and 3. Attended but claimed not to be attended by the Allottee.
A representative example Registration for feedback was made using the option. For a Quarter – Feedback Locate the House – Locate the Complaint for which you want to provide feedback – and then hit the submit button.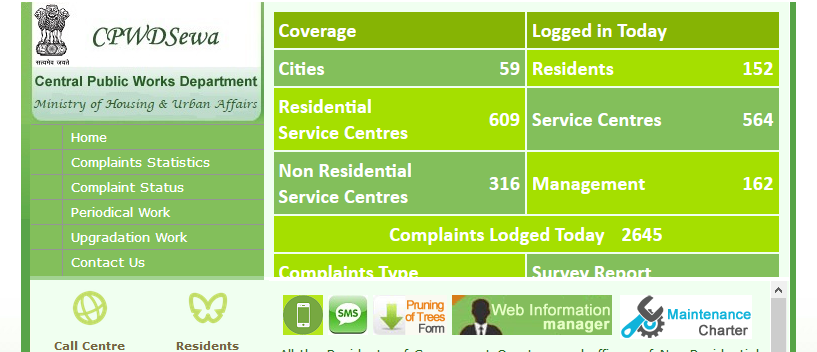 Reactivation of a complaint that was not satisfactorily handled:
Select any of the Feedback options and press the Submit button. If the options Not satisfied with the work performed or Attended but claimed not to be attended by the allottee are selected, the option to RE-ACTIVATE the same complaint will be available.
After that, the Service Center employee assigned to that complaint may return to the house and resolve the issue properly. The system avoids filing the same complaints over and over with this strategy.