Activate TiVo Stream 4K : How to Connect a TiVo Device to Your Network
When you first install TiVo Stream 4K, you'll follow on-screen prompts to set up your device. When you come to an activation screen, use a computer or mobile device to open a browser.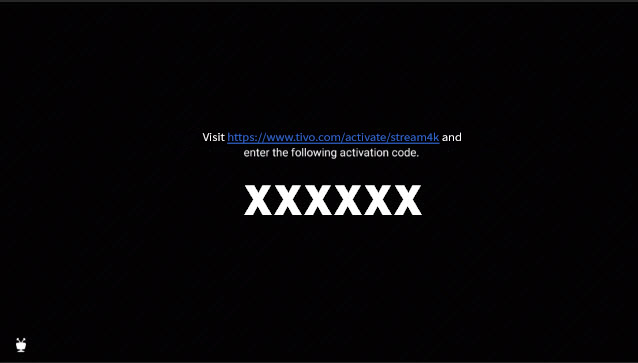 Go to tivo.com/activate/stream4k, and sign in with your TiVo.com username and password. The following screen will be displayed.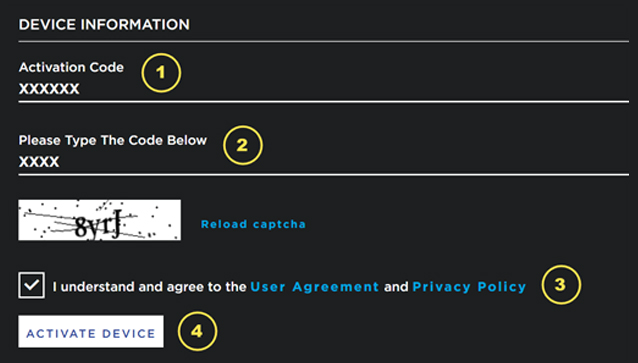 Enter the activation code
Enter the letters and/or numbers displayed in the white "Captcha" box. If the letters/numbers are unclear, click "Reload captcha"
Agree to the User Agreement and Privacy Policy
Click "Activate Device"
Once the information has been entered correctly and you've accepted the terms, this screen will disappear, and setup will continue automatically.
How to Activate Service on a TiVo DVR 
Before you purchase a device or activate with any of the TiVo Service Plans available, please verify if the device is already activated with a service.
The device is active with the AIP service
Secure an authorization to transfer the ownership of the device from the seller.
Once authorization to transfer is provided, contact TiVo Customer Support via chat and request an ownership transfer.
Provide the 15-digit TiVo Service Number to the chat agent.

The device is active with Monthly/Annual service
Check and verify with the seller if the service is still active.
If the service is still active, advise the seller to cancel the service. This is to avoid difficulty in activating the device for your account.
The device is not active and has no service
Note:
 If you do not have an account, 
create an account
 and proceed with the steps above.
How to Connect a TiVo Device to Your Network
Connect your TiVo device to a wired network (Recommended)
All wired routers and most wireless routers have Ethernet ports to connect the router to other devices on the network. A wired connection may be faster than a wireless connection and is the recommended connection type for TiVo EDGE Series, TiVo BOLT Series, TiVo Roamio Series, and TiVo Premiere Series.
To connect using a wired connection, simply attach an Ethernet cable between your router and the TiVo device.
New TiVo customers: After the TiVo device powers up, it will automatically begin Guided Setup. During Guided Setup, you will be prompted to enter settings that will allow the TiVo device to connect to your network.
Existing TiVo customers: If you are already are using a wireless connection and needs to reconfigure your network, go to How to Configure Network Settings on your TiVo Device.
TiVo Series 2, Series 3, and Series 4 that require a USB (N-adapter or G-adapter) wired adapter: Connect one end of the Ethernet cable to your router and the other end to the wired adapter. Then, connect the USB end of the wired adapter to the USB port on the back of the TiVo device.