AC Origins Game Pass : Assassin's Creed Origins Season Pass
The Season Pass adds more adventures and customisation options to your game.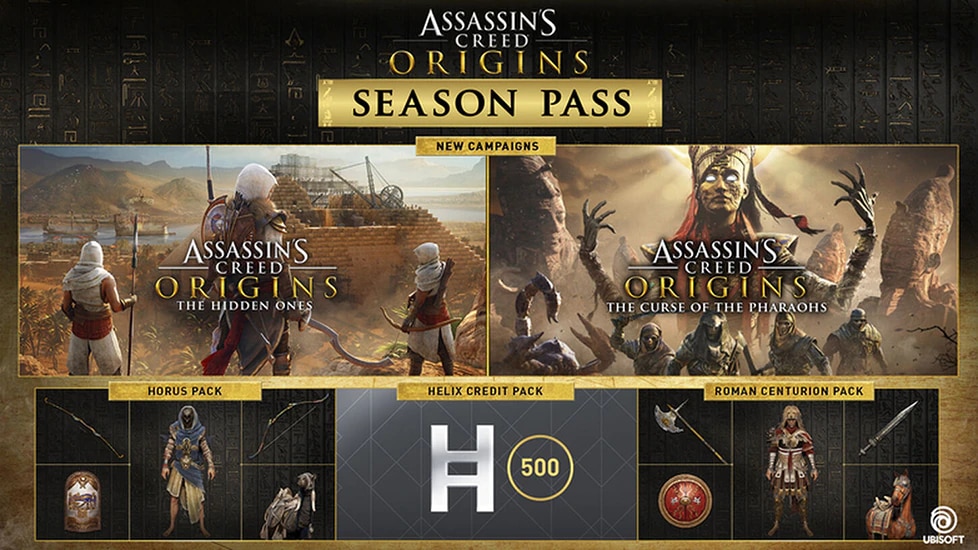 Owners of the Season Pass will get access to: 
1. 500 Helix Credits
2. Horus Item Pack (including a new outfit, weapons, shield and mount)
3. Roman Centurion Item Pack (including a new outfit, weapons, shield and mount)
4. The Curse of the Pharaohs DLC (downloadable content)
5. The Hidden Ones DLC
6. Weapon: Calamity Blade
On consoles, the DLCs, Item Packs and Calamity Blade can be shared with any other account that is active on the system.
Locate unlocked items in Assassin's Creed: Origins
When you unlock an item in Assassin's Creed: Origins by redeeming a code or key (for example for a ULC or Season Pass), you will be notified by a message in-game that new items were unlocked.
You can check in-game if the contents were correctly unlocked. To do that, simply navigate to Store > Add-Ons. This screen will show you if your bonus content was unlocked correctly and if it was installed. If you redeemed and installed a pack, the pack itself will display as Owned and the separate contents of the pack will be listed as Installed. Any Helix Credits you may have received will be added to your Balance in the top left.
The picture shows the Deluxe Pack as well as its separate contents as example.
You may need to download and install the content manually. Check the FAQ for your platform (PC, PS4, Xbox One) to find out if that is the case.
Ability Points are not shown in Store > Add-Ons – you'll be able to find them in the Abilities menu. Items that were correctly unlocked, downloaded and installed appear in your Inventory or Gear menu:
Drachmas (currency), crafting resources, arrows, quest items, papyri, animal goods and trinkets are in the Inventory.
Ranged and melee weapons, outfits, tools, shields and pieces of armour are in the Gear menu.
Any items that are not part of a pack or that you purchased for Helix Credits ill be shown in Store > Owned. These will automatically applied to the save game you purchased them with. However, you'll be able to use this menu to claim the same items for other save games.
Activating a key on Ubisoft Connect PC
To activate the key for your game or content on Ubisoft Connect PC:
•  Select the lines icon in the top left of the window.
•  Choose Activate a key.
•  Enter your key in the Activation Code field.
•  Select Activate.