$420 Food Benefit Card NYC : Check Mail For $420 Food Benefit
In July 2020, thousands of New York City families with public school-aged children will receive $420 in food benefits. The program applies to every public school family in New York City, regardless of income.
The Pandemic Electronic Benefits Transfer program (P-EBT) is intended to help families buy groceries while children learn remotely from home due to COVID-19.
For families that are interested in donating their benefits to a family in need, please don't throw out your card — share the benefits!
Here's what you need to know:
In July, you will receive a P-EBT card by mail in the amount of $420
The card is non transferable and must be used on food products
You can use the card to buy food for your family, buy and donate food, or buy food and make a monetary donation to a food service program
Where to Use Your P-EBT Card
The EBT card is used like a debit card to buy food at authorized stores. To check whether your grocery store is a SNAP retailer or to locate SNAP retailers visit: SNAP Retailer Locator
Sharing Your P-EBT Benefits
There is no way to transfer food benefits from your card to someone else or to return your card. However, if you would like to share your food benefits with others in need, you have options:
You can buy food to give to a local food provider (at a grocer listed above)
You can use your P-EBT card to buy food for your family, then donate the equivalent $420 to a local food provider
Within District 4, City Meals on Wheels, United Way of NYC, and City Harvest accept donations. To donate to a citywide organization, visit Community Food Advocates.
About P-EBT Food Benefits
P-EBT food benefits provide families with access to food that their children would have access to under the National School Lunch Act, if not for school closures in March due to COVID-19. $420 is the maximum amount of P-EBT one child could receive for the March through June period.
P-EBT benefits will expire one year after they are issued, but you should save your EBT card in the case that schools remain closed and more funds are distributed.
Receiving Your Benefits
You do not and cannot apply for P-EBT food benefits. Benefits will be automatically distributed to eligible children.
All children who would have received free or reduced-price lunches if schools did not close are eligible. In NYC, this includes every public school student. Foster children and children who are non-citizens that receive free lunch at school are eligible, as well.
P-EBT food benefits come on an Electronic Benefit Transfer (EBT) card
Families that receive SNAP and/or TA benefits already received the P-EBT benefits for each eligible child in May or June. These benefits were added to their SNAP balance on the household's existing EBT card.
Families with children who receive Medicaid benefits and are eligible for P-EBT will receive the food benefits on the Medicaid Common Benefit Identification Card (CBIC) of the parent or eldest, eligible child of the household. You must have a Personal Identification Number (PIN) to access P-EBT using your CBIC.
Families with eligible children who did not receive P-EBT benefits on a SNAP, TA, or Medicaid card will receive a P-EBT card in the mail for each eligible child.
How do I access the P-EBT food benefits if they are on a P-EBT Food Benefit card?
To access your P-EBT food benefits using a P-EBT Food Benefit card, you must have a Personal Identification Number (PIN). It is important that you follow the directions for selecting a PIN to be able to access your food benefits.
You can select one over the phone by calling 1-888-328-6399. Please be prepared to provide security information, including your zip code and the month and day of the cardholder's birthday (MM/DD), to complete this process.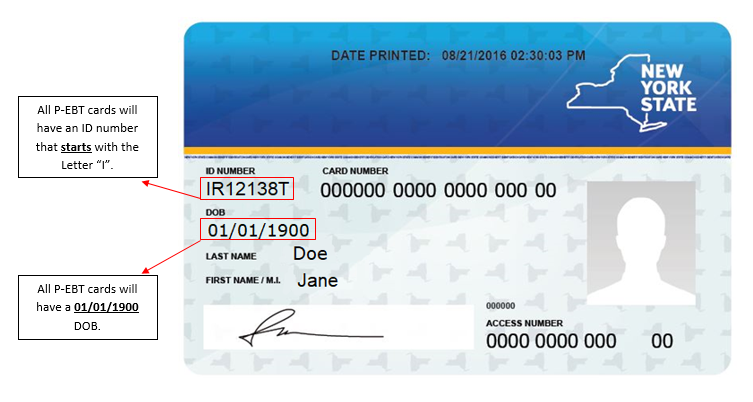 Example of a P-EBT card. All P-EBT cards will have an ID number that starts with the letter "I". All P-EBT cards will have a 01/01/1900 DOB.
How do I order a replacement P-EBT Food Benefit card?
Important: Replacement P-EBT Food Benefit cards should only be requested when the previously issued card has been lost, stolen or damaged. Food benefits will be issued as monthly in-person school attendance information provided by schools and school districts is reviewed and processed. Ordering a replacement card will not result in receiving your child(ren)'s P-EBT food benefits faster and, in some cases, may delay access to your child(ren)'s benefits.